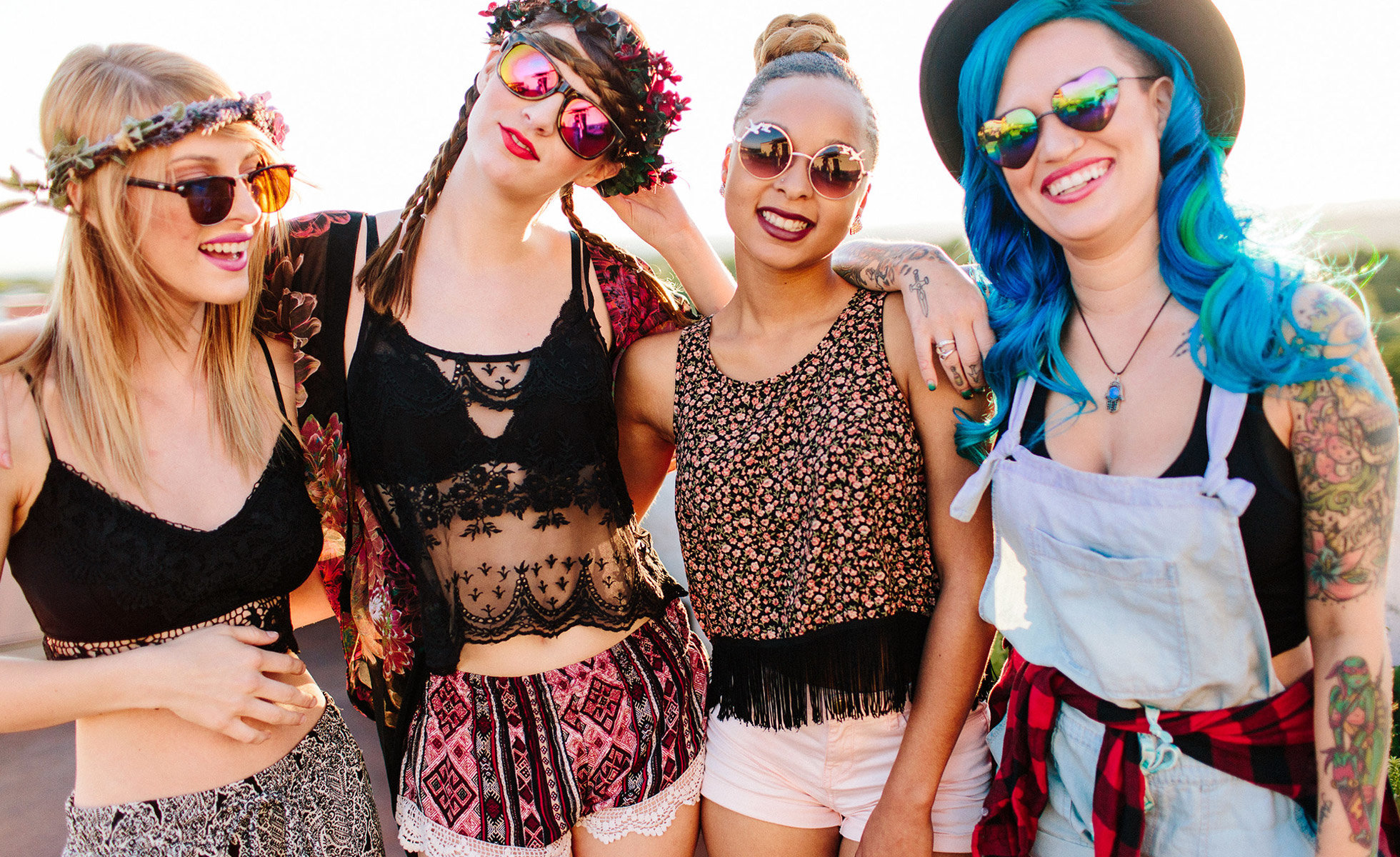 Each spring, Coachella kicks off a string of music festivals across the globe—so break out your bandanas and get ready to dance the day away. As much as festival-going looks like a breeze, it can get uncomfortably hot and dusty on arid concert grounds. This year, don't let sweat, sunburn, and dirt put a damper on your music experience.
---
Make sure you're stacked with skincare that holds up while you stage hop your way through festival season. Put these products in your fanny pack and you can protect yourself from harmful rays and avoid makeup meltdowns all while looking (and smelling!) fresh.   
---
Moisturizing sunscreen
Get ready to rock out, without the sunburn! This hydrating sunscreen will get your entire body covered in delicious-smelling broad spectrum protection. COOLA's plumeria-scented formula ($32) adds a layer of fatty acid-rich SPF 30 so skin stays soft and safe from ultraviolet damage. Infused with argan oil and shea butter, this waterproof SPF prevents sun-induced dehydration by conditioning dry (and sweaty!) skin, so you feel soothed and shielded between sets. Also, use a little on your hair to keep flyaways and frizz in check!
Blotting linens
Outdoor music festivals are often synonymous with pore-clogging sweat. Keep skin clean and shine-free by popping some portable blotting sheets in your festival bag. Infused with soothing green tea extract, Boscia's Blotting Linens ($10) absorb perspiration and oil without lifting makeup so you're left with mattified skin.
Deodorant
Avoid smelling like a sweaty sock midway through the day by freshening up with travel-friendly deodorant. Bioderma Sensibio Freshness ($9.90) not only neutralizes the formation of unpleasant odors, it also regulates excessive perspiration by letting skin breathe naturally. The sensitive skin-approved formula soothes and reduces irritation, so feel free to reapply throughout the day.
Sanitary wipes
You'll definitely want to keep some wipes on hand, like these portable packets from BeautySoClean ($15). Specifically created to remove germs from lipstick, lip gloss, eye/lip pencils and mascara wands, these wipes will keep your cosmetics clean for sterile product application. This non-irritating formula is also safe enough to use on hands ensuring that you're bacteria-free before you dig into any festival food.
Tinted lip balm with SPF
Don't forget to sun-proof your most sensitive skin. This tinted lip conditioner by ILIA ($28) delivers SPF 15 protection with a hint of hydrating color. Enriched with a free-radical fighting combination of natural oils, ILIA's formula softens skin with a wash of sheer color that stays strong as you sing along to your favorite jams.
---
View Original Article