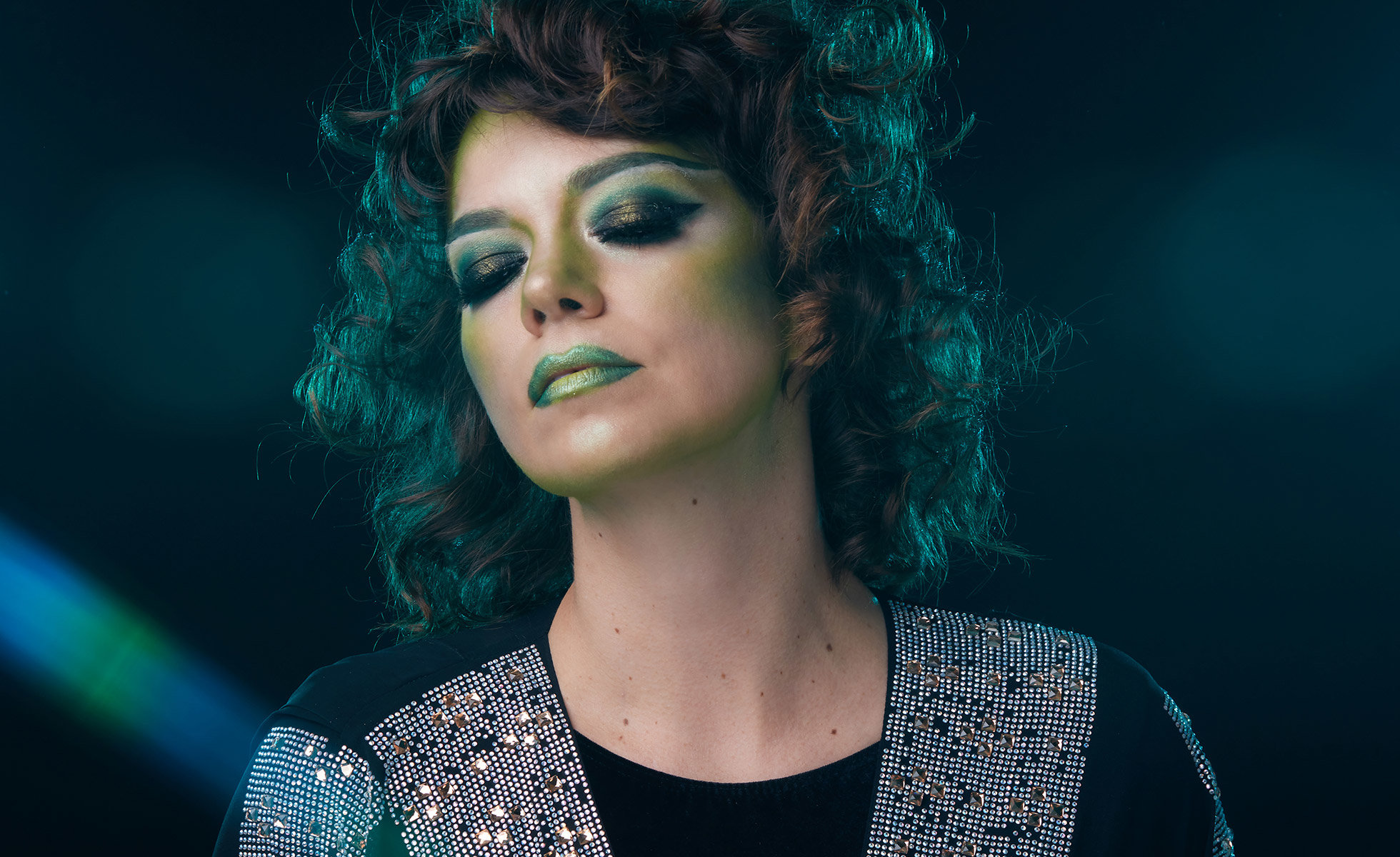 Back in June, Matty Roberts created the "Storm Area 51, They Can't Stop All of Us" Facebook event, which rallied 2 million alien enthusiasts to raid a military base mythicized as a spot for extraterrestrial sightings. Originally intended as a joke, Matty's call quickly caught fire as a viral quest to "see them aliens."
Today, the initial storming has now transformed into a three-day festival called Alien Stock. From 9/20 to 9/22, believers in "close encounters of the third kind" can gather in the town of Rachel, Nevada (known as the closest location Area 51) to hear live music, eat, camp out and discuss aliens all weekend.
In response to these events, talk of aliens has invaded online posts, stories and memes all summer long—and the hype is still going into fall. Inspired by the current fascination with all things extraterrestrial, we've created a green alien makeup look perfect for all your space-themed parties or even this Halloween.
What You'll Need:
Primer

Foundation

Concealer

Loose powder

Neutral color liquid eye shadow

Small blending brush

Black liquid eyeliner

Charcoal eyeliner

Black mascara

Velour Lashes in Dark Side

Highlighter

Green liquid lipstick
Prep Your Skin:
Begin with your normal primer and foundation routine (if you have one). We prepped our model's skin with Hourglass No. 28 Primer Serum and BECCA Ultimate Coverage Foundation and then applied Jeffree Star Cosmetics Magic Star Concealer to the under eye area and onto the high plane of the cheekbone.
Set your foundation and concealer with a loose powder, like Charlotte Tilbury Magic Powder.
Prime your eyes:
Using a flat eye shadow brush, prime your crease and brow bone with a neutral liquid eye shadow (we used Stila Suede Liquid Eye Shadow in Nude Awakening).
With the same brush, apply a black metallic cream color like Danessa Myricks 24-Hour Cream Color in Galaxy along your lash line and blend upward into your lid and crease.
Eye shadow:

Shades from Jeffree Star Cosmetics Alien Eyeshadow Palette
Black Hole: Deep black with a matte finish
Alien: Neon green with a metallic finish
Flying Saucer: Bright teal with a matte finish
Pluto: Icy white with a duochrome finish
---
Blend the shade Alien onto your lid and into your crease.
With a detail brush, apply Flying Saucer to your outer V, so that the Alien shadow still peeks out.
Using your flat eye shadow brush, pack Black Hole into the center of your lid at the lash line. Blend up and outward to create a diffused look, as the black color approaches the crease.
With a blending brush, apply Black Hole to your outer V and wing it outward.
Add dimension by patting glitter pigment to the center of your lid. We used Lit Cosmetics Metals in Enchanted.
Create a wing with a liquid eyeliner. We used Benefit Cosmetics Roller Liner in Black.
Using a small angled brush apply Flying Saucer shadow to your lower lash and diffuse the color by applying Alien with a small blending brush.
Apply Pluto to your tear ducts to highlight.
Fill in your upper and lower waterlines with an eyeliner (try Stila Smudge Stick in Vivid Labradorite).
Apply black mascara (we used Benefit Roller Lash in Black) to your upper and lower lashes and add a pair of voluminous false lashes like Velour Lashes in Dark Side.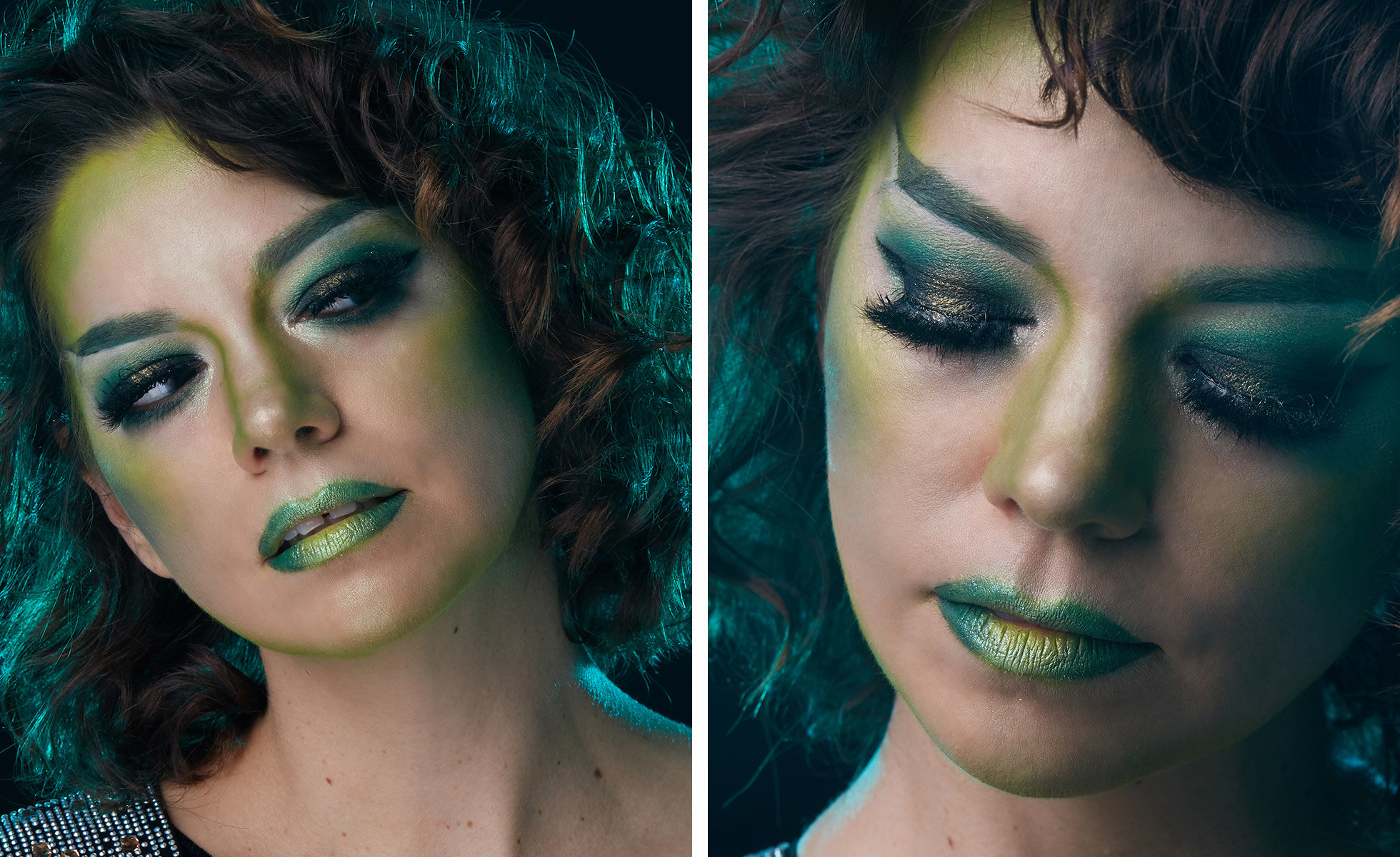 Contour and Highlight:
Using a large crease contour brush, contour your hairline, nose and temples with a lime green shadow like Sugarpill Cosmetics pressed shadow in Arsenic.
Using an angled powder brush, contour your cheekbones and jawline with the shadow.
Using the same crease contour brush, deepen the hollows of your cheeks with Flying Saucer shadow.
Highlight your cheekbones, bridge of the nose, and Cupid's bow with a frosty highlighter like Jeffree Star Cosmetics Supreme Frost in Money Honey.
Lipstick:
Apply a green tinged color to upper and lower lips, like Jeffree Star Cosmetics Liquid Lipstick in No Offense.
Using your small angled brush, shade the corners of the upper and lower lips with the eye shadow shade Flying Saucer.
Using your ring finger, tap your highlighter onto the center of both upper and lower lips.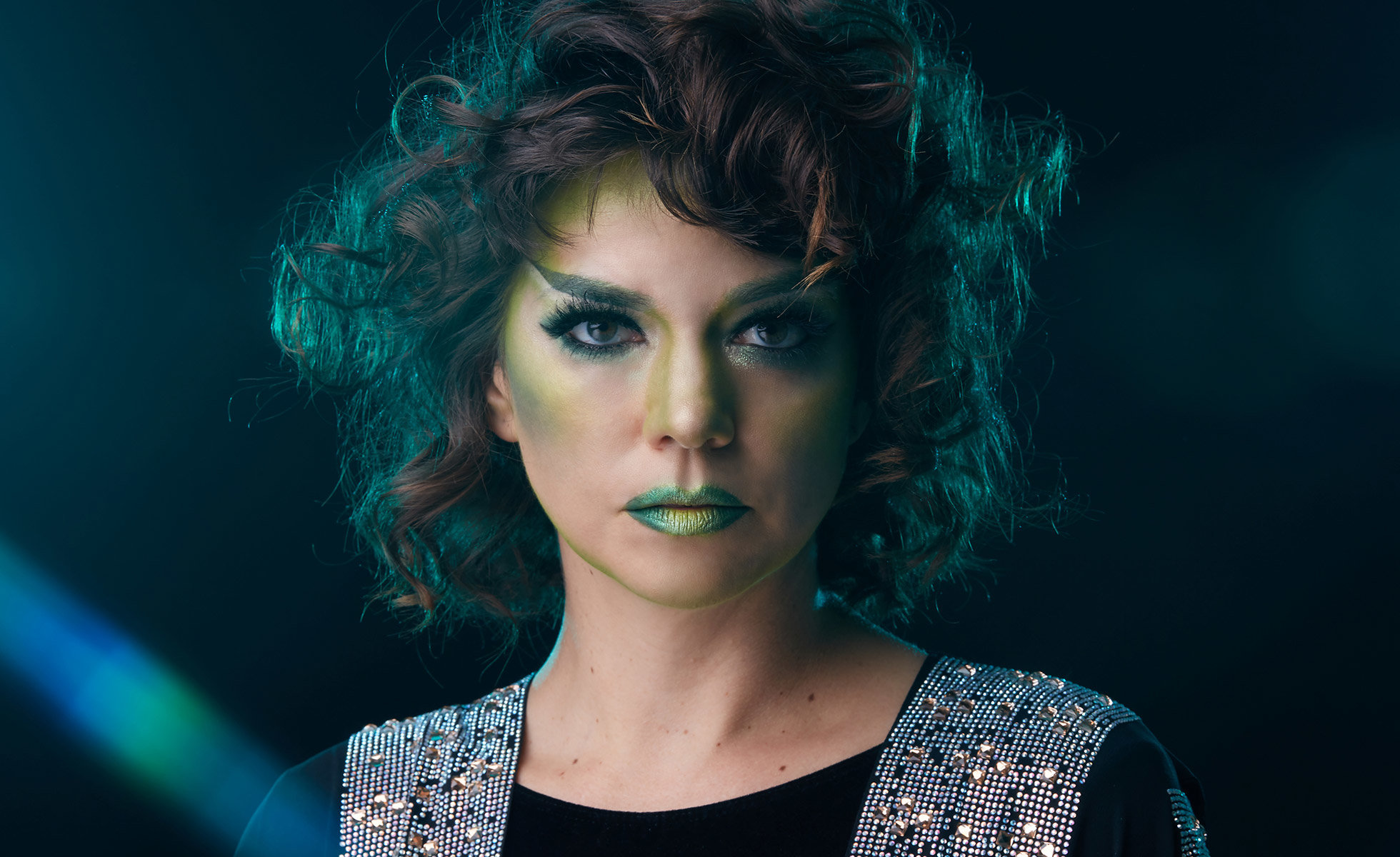 Model: Courtney Garvin | Makeup: Tracy Chase
---
View Original Article